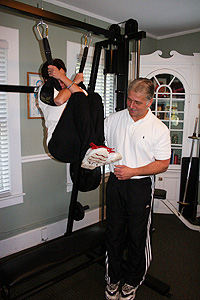 Gerald S. Erickson, Exercise Physiologist graduated from Richard Stockton College with degrees in both Psychology and Administration. Prior to the opening of Optimum Health, Mr. Erickson was the Director of medical, rehabilitation, and support services at a facility for the geriatrics. This facility was comprised of 118 beds and 226 staff, all with very special needs and therapy requirements. After 15 years of successful operations, as the CEO, Mr. Erickson decided to leave this business and launch Optimum Health. The mission of this business was to help people who have failed to recover from their injuries and have chronic pain. We are trying to help people experience greater health and have athletes get back to sport successfully.
Mr. Erickson's extensive experience includes being recognized by several organizations for his knowledge of nutrition and exercise therapy and is also board certified as a Clinical Exercise Physiologist, by the prestigious American College of Sports Medicine. That said, he has earned over 600 continuing medical education credits.
Additionally, Mr. Erickson has a unique understanding of people with special needs. This understanding assists the physician to better address pain and discomfort in patients. Areas of strength include; pregnant women, people with chronic pain, and those experiencing problems from sport related injuries. Under Mr. Erickson's direction, Optimum Health is dedicated to highest quality service delivery.
Our mission is to help the individual achieve better health and enjoy a more active lifestyle. 
A life that is full and rich, void of pain, and without significant restrictions.